I used all the black ink of my HP PageWide Pro 477dw, so I bought a compatible cartridge and installed it into the printer.
I was greeted with a nice message, courtesy of HP:
The indicated cartridges have been blocked by the printer firmware (MAVEDWPP1N001.2208A.00, released on February 14, 2022) because they contain a non-HP chip.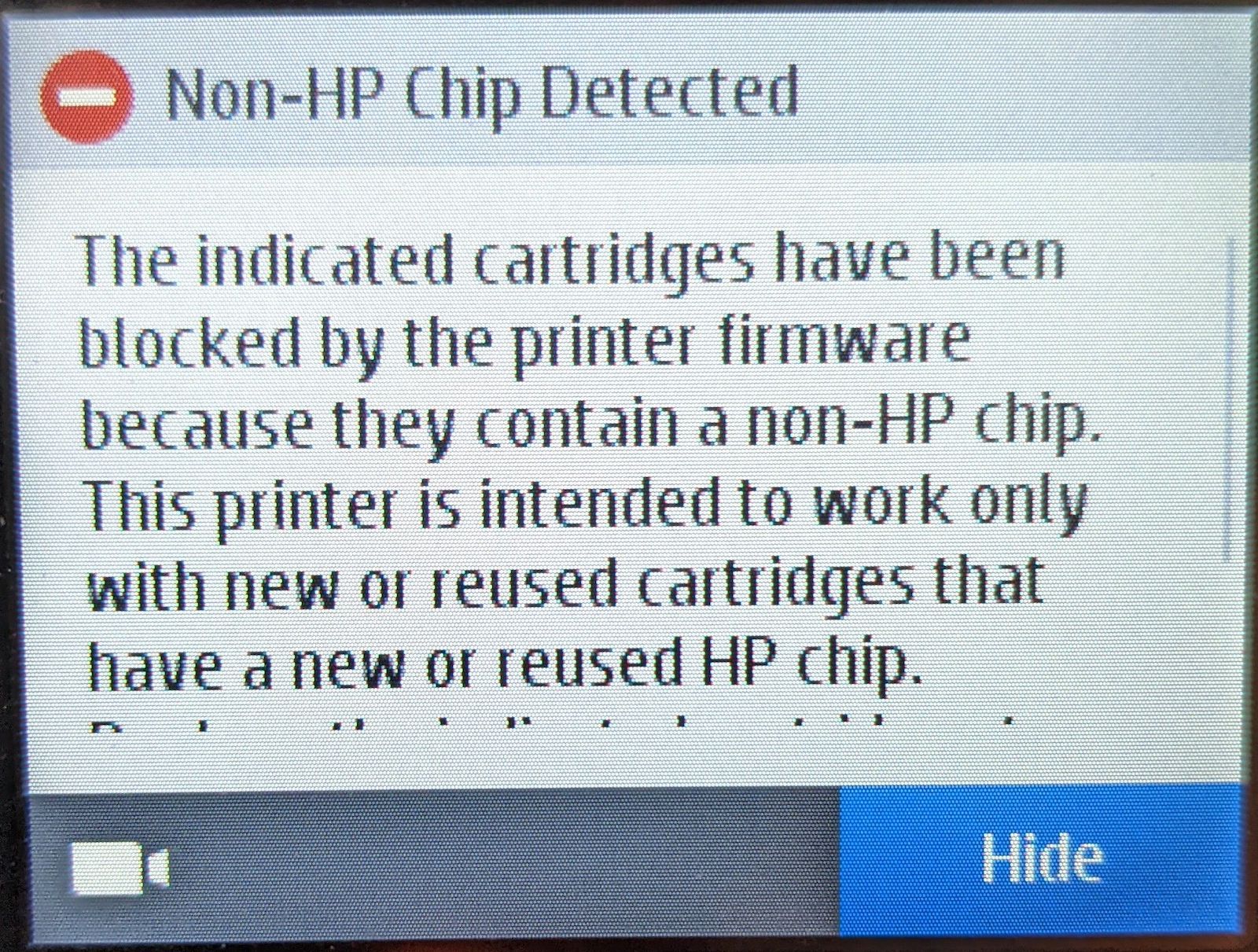 I dug around and found that the easiest way to solve the issue was to downgrade my printer's firmware to version 1908C.
Somebody on Reddit helpfully linked to this firmware version's Windows .exe installer, from which I extracted the actual .ful2 image using 7-Zip.
To install it, copy the .ful2 file in the root of a FAT32 formatted thumbdrive (mine had an MBR partition table, I don't know if it would work on a GUID one), then connect it to the printer. I left it connected for a while, and initially it only presented me with the option of scanning to the drive or printing something from it. After about a minute it went back to the main menu, from which I re-selected the thumbdrive, and this time it showed a button to update the firmware from the thumbdrive. I pushed it and waited for the update to complete (3–4 minutes total).
Now it works great. (And I disabled auto updates, even though I don't like that. But I won't let HP dictate what kind of cartridges I can and cannot use.)
So, to recap:
Put this .ful2 file in the root folder of a FAT32-formatted thumbdrive (MBR partition table).
Connect it to the printer and wait for the printer to go back to the main menu.
Press the thumbdrive button from the main menu and then press the button to install the new firmware from it.
You're done. Maybe disable auto updates.
I'm also uploading here version 1921E, should it be helpful in the future.
Post update – Two days later
Even though I disabled auto updates the printer somehow found a way to do it anyway (🤦‍♂️), and I was back at the error message above.
I repeated the procedure, it worked fine, and this time I completely blocked the printer from being able to access the internet. It appears to be working 💪🏻.